Simple electromagnetic crane project grade 7 – Grade 7 technology project electromagnetic crane answers; Get good pdf here
Simple electromagnetic crane project grade 7 – Grade 7 technology project electromagnetic crane answers
Meaning of  crane with an electromagnet?
Magnet Crane
Simple electromagnetic crane project grade 7 – Grade 7 technology project electromagnetic crane answers; Also referred to as electromagnetic cranes, these cranes are used to handle and move metals like steel and iron. Magnet cranes can be found mostly in recycling plants and scrap yards. They operate using a magnetic field that is formed by an electric current passing through windings around the magnet.
An electromagnet is a kind of magnet where the magnetic field is created by an electric current. The uses of electromagnets are given here to help learners understand the topic more effectively. Electromagnets can be considered as a temporary magnet that functions with the help of an electric current. The magnetic strength of an electromagnet can be easily altered by varying the amount of electric current and its polarity can be changed by varying the direction of the electric current.
[jnews_element_blocklink title="JOIN OUR TELEGRAM CHANNEL LIFE ORIENTATION FOR ALL GRADES" second_title="Join us in our channel for chats, download grades pdf, memos, and other services" title_url="https://t.me/LIFEORIENTATION"]
Electromagnets are used for various purposes on a day-to-day basis. For example, electromagnets are used in the large cranes which are used in waste yards. Electromagnets are also widely used in numerous electromechanical and electronic devices. Some common uses are given below.
10 Uses of Electromagnets
Generators, motors, and transformers
Electric buzzers and bells
Headphones and loudspeakers
Relays and valves
Data storage devices like VCRs, tape recorders, hard discs, etc.
Induction cooker
Magnetic locks
MRI machines
Particle accelerators
Mass spectrometers
Uses in Home Appliances
Most of the electric appliances used in the home use electromagnetism as the basic working principle. Some electromagnet uses in the home include an electric fan, electric doorbell, induction cooker, magnetic locks, etc. In an electric fan, the electromagnetic induction keeps the motor rotating on and on making the blade of the fan to rotate. Also in an electric doorbell when the button is pressed, due to the electromagnetic forces the coil gets energized and the bell sounds.
Uses in Medical Field
The uses of electromagnets are also seen in the medical field. MRI scan which is short for Magnetic Resonance Imaging is a device that uses electromagnets. The device can scan all the tiny details in the human body with the help of electromagnetism.
Uses in Memory Storage Devices and Computer Hardware
The data in ebook gadgets and phones are stored in the electromagnetic format in the form of bytes and bits. The computer hardware is also having a magnetic tape which works on the principle of electromagnetism. Even in the olden days' electromagnets had a huge role in the data storage of VCP and VCR.
Uses in Communication Devices and Power Circuits
Without electromagnets, the mobiles and the telephones we used to make phone calls over a long distance could not have taken shape. The electromagnetic pulses and the interaction of the signals make mobiles and telephones very handy.
These were some application uses of electromagnets. Stay tuned with BYJU'S to learn more interesting Physics concepts with the help of interactive video lessons.
How do you make an electromagnet project?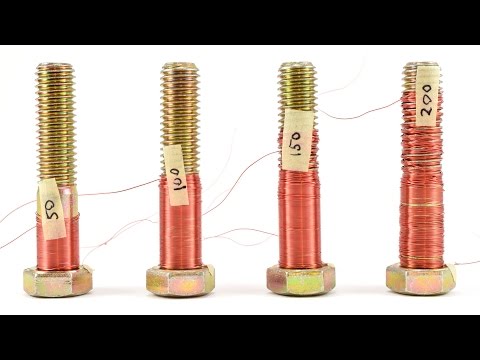 Later to wind the coil. Pull the wire taut with your fingers. And rotate the bolt slowly to prevent
More
How do you make a homemade electromagnet?
Electromagnets can be created by wrapping a wire around an iron nail and running current through the wire. The electric field in the wire coil creates a magnetic field around the nail. In some cases, the nail will remain magnetised even when removed from within the wire coil.
1
Experiment Design:
Design an experiment to test each hypothesis. Make a step-by-step list of what you will do to answer each question. This list is called an experimental procedure. For an experiment to give answers you can trust, it must have a "control." A control is an additional experimental trial or run. It is a separate experiment, done exactly like the others. The only difference is that no experimental variables are changed. A control is a neutral "reference point" for comparison that allows you to see what changing a variable does by comparing it to not changing anything. Dependable controls are sometimes very hard to develop. They can be the hardest part of a project. Without a control you cannot be sure that changing the variable causes your observations. A series of experiments that includes a control is called a "controlled experiment."
Experiment:
Introduction: In this experiment you will make three identical electromagnets with 3 different loop counts on their coils and then compare their strengths.
Materials:
3 – 3″ long bolts with nuts
about 100 feet magnet wire or any insulated solid copper wire size gauge 22
1 – 6-volt battery known as lantern battery.
Procedure:
1. Wrap some masking tape or paper on the bolts where you want to wind the wire.
2. Number the bolts from 1 to 3
3. Leave about 2 feet from the beginning of the wire and start winding 100 turns of wire on the bolt number 1, then leave another 2 feet and cut the wire.
4. Wrap some tape on the coil so it does not unwind. Optionally twist the two hanging pieces together to make them more manageable.
If you don't have access to 3″ bolts, you may use a large nail instead.
5. Remove insulation from both ends of the wire so they will be ready for connection to the battery.
6. Repeat the steps 3 to five with the two remaining bolts; however, wind 200 turns of wire on bolt number 2 and 300 turns of wire on bolt number 3.
7. Get an assistant to help you in the testing step. For each of the three electromagnets you have made, your assistant must connect the two ends of the wire to the poles of a 6 volt battery while you use the electromagnet to lift some small nails. Count or weigh the number of small nails and record that in your data table.
8. After testing the electromagnets 1, 2 and 3, go back and repeat your tests (at the same order) two more times.
9. Calculate the average weight of nails or the average number of nails each electromagnet could lift.
Warning: Do not keep the electromagnets connected to the battery for a long time. This can cause heating up the wires and discharging the battery. Limit each test to about 10 seconds.
Your data table may look like this:
| | | | | | |
| --- | --- | --- | --- | --- | --- |
| Electromagnet | Loop count | Strength test 1 | Strength test 2 | Strength test 3 | Average |
| 1 | 100 | | | | |
| 2 | 200 | | | | |
| 3 | 300 | | | | |
The strength is the mass of small nails (in grams) each electromagnet can lift. If you don't have access to a small scale, the strength will be expressed as the number of small nails each electromagnet can lift.
The strongest electromagnet you have made may be hanged on a wooden crane to form the electromagnetic crane described below.
Term 2 grade 12 task 2 project life orientation memorandum 2022
Simple electromagnetic crane project grade 7 – Grade 7 technology project electromagnetic crane answers
Activity: Make an electromagnetic crane
Click Here to see a simple, step by step procedure for constructing an electromagnetic crane.
Construction Details
The exact dimensions of each of the parts will depend upon the material available to you
and the specific design that you prepare. The components which make up the crane are shown in the following sketches. Yours can be different based on the material you have access to. Try to use your own ideas and make changes as needed.
Points to consider
The angle of the jib can be varied by turning the pulley and varying the length of cord wound on the pulley. Similarly, the height of the magnet can be varied by turning the second pulley. (Jib=The arm of a mechanical crane)
The crane can be rotated by turning the tower on the base.
Experiment lifting different objects, varying the load for fixed positions of the jib. This would lead to an observation that light loads can be lifted with the jib almost horizontal while to lift heavy loads the jib must be getting closer to the vertical position.
You may observe that to lift heavier loads a stronger magnet is required which can lead on to an electric circuits project to investigate the relationship between voltage, current, and resistance, and also energy and power for your future projects.
Materials and Equipment:
Materials needed are as follows:
1. Wood indifferent shapes and sizes depending on your design and availability.
2. Nails
3. Screws
4. Bolts and nuts
5. Large nail
6. Hinge and other metal parts (From hardware store)
7. Thermostat wire (Insulated Solid wire #24, about 50 feet)
8. Other insulated solid wires with different thickness for test only (15 feet of each)
9. Knife switch, any other simple switch (optional)
10. 6 Volt battery (Known as lantern battery)
11. Empty spool
Results of Experiment (Observation):
Experiments are often done in series. A series of experiments can be done by changing one variable a different amount each time. A series of experiments is made up of separate experimental "runs." During each run you make a measurement of how much the variable affected the system under study. For each run, a different amount of change in the variable is used. This produces a different amount of response in the system. You measure this response, or record data, in a table for this purpose. This is considered "raw data" since it has not been processed or interpreted yet. When raw data gets processed mathematically, for example, it becomes results.
No calculation is required for this project, however if you do any calculations, you must write them in your reports.
Among the calculations that you might do is to see the lift power of your electromagnet for two different battery voltages (1.5 volts and 3 volts) and then use these numbers to calculate how much will the lift power be with a 6 volts battery. Similar calculations can be done for the number of wire loops in your electromagnet.
Summery of Results:
Summarize what happened. This can be in the form of a table of processed numerical data, or graphs. It could also be a written statement of what occurred during experiments.
It is from calculations using recorded data that tables and graphs are made. Studying tables and graphs, we can see trends that tell us how different variables cause our observations. Based on these trends, we can draw conclusions about the system under study. These conclusions help us confirm or deny our original hypothesis. Often, mathematical equations can be made from graphs. These equations allow us to predict how a change will affect the system without the need to do additional experiments. Advanced levels of experimental science rely heavily on graphical and mathematical analysis of data. At this level, science becomes even more interesting and powerful.
Using the trends in your experimental data and your experimental observations, try to answer your original questions. Is your hypothesis correct? Now is the time to pull together what happened, and assess the experiments you did.
[jnews_block_28 number_post="30″ include_tag="99″ pagination_mode="nextprev"]
Other Articles